A Message from Our General Manager, Barre Bell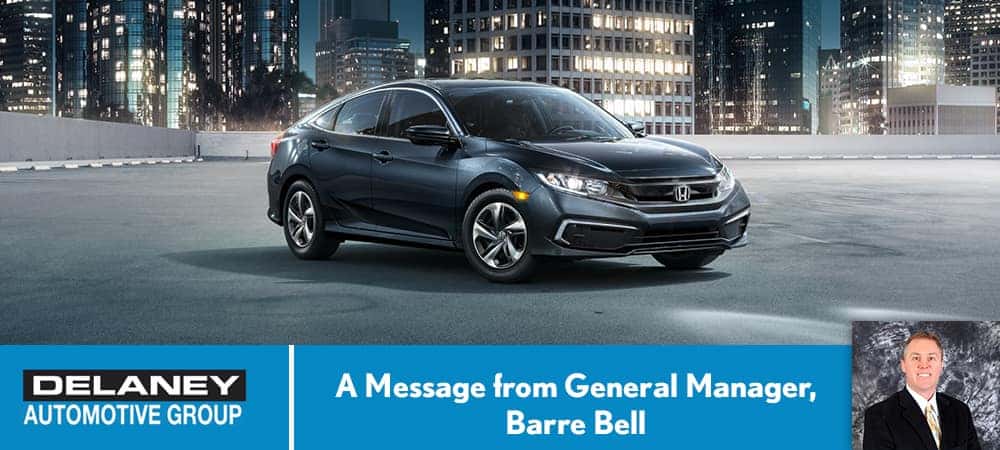 Dear Delaney Honda Family,
I wanted to take a moment to say thank you to our valued customers. We truly appreciate your business.
I also want to share with you my gratitude for our dedicated employees who enjoy serving you, our customer and this great community. We take pride in making sure that you are treated like family every time you come to see us.
Honda is special to us. They continue to raise the bar with superb performance, advanced technology, world class safety features and great styling. The level of detail Honda puts into each model is beyond comparable. This shows as the Honda Accord was named the 2019 Best Midsize Car from U.S. News & World Report. Honda constantly improves in every category and we owners know the pure joy of driving one is simply remarkable.
As you read through this newsletter know that there is more going on with Delaney Honda than ever. We have exceptional deals and service specials offers daily. Check out the tips we have for you to maintain your Honda as we spring forward towards the change of seasons. Our state of the art service department can help keep your Honda running at top performance after a long winter. Delaney Honda is here for you.
If you ever have a question, concern or suggestion on how we can improve your overall ownership experience please contact me directly. I always appreciate your feedback and our goal as a team is for you to be completely satisfied with your Honda. We thank you for your continued support.
Happy Roads,
Barre Bell